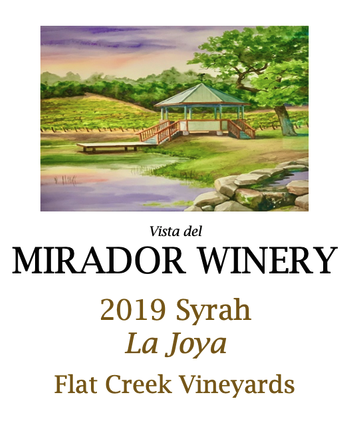 2019 Syrah La Joya
This field blended wine is 80% Syrah co-fermented with 20% Viognier and by standards is still considered a Syrah. It was aged for 20 months in new French oak barrels and transferred to neutral oak prior to bottling.
Co-fermenting Syrah with Viognier is a wine making process which occurs in the Côte-Rôtie, a wine-growing region in France's Northern Rhône Valley where Viognier often grows alongside Syrah. The two varietals are concurrently harvested as a field blend and crushed together to begin the co-fermentation process in the winery. In our vineyard, Lady's Block Viognier and Brad's Block Syrah grow in the same section of the vineyard below the base of Mt. Aukum behind the gazebo.
Typically, the Viognier ripens about 2 to 4 weeks earlier than the Syrah; however, in 2019, we were fortunate to have some early harvest rain slowing down the ripening of the Viognier allowing us to harvest the two varietals simultaneously. The weather in 2017 and 2018 did not afford us the opportunity to make a co-fermented wine.
To differentiate this co-fermented Syrah from the 100% Syrah, not yet released, we have coined the phrase for this wine as "La Joya" which translates to "The Gem" from Spanish to English. Since the weather does not always lend itself to co-ferment these two varietals, we wanted to make sure this Syrah is set apart by labeling it accordingly as the true gem that it is.
Wine Specs
Appellation
Fair Play AVA
Vineyard Designation
Flat Creek Vineyards
Wine Profile
Tasting Notes
One of the primary reasons for using Viognier with Syrah is that Viognier enhances the color of the Syrah. The Viognier does not dilute the Syrah, it complements the wine in both color and flavor.  Viognier has a beautiful floral aroma along with tangerine and peach notes that enhances the aroma of Syrah that can include plum, cigar box, black pepper, smoked meat and bacon fat.  On the mouthfeel, Viognier provides the Syrah with a silkier mouthfeel. 
Vineyard Notes
Flat Creek Vinyards is on the Vista del Mirador Winery property in the Fair Play AVA and is located at the base of Mt. Aukum in Somerset, CA. where Flat Creek runs through the vineyard on the way to the Consumnes River.