Our Story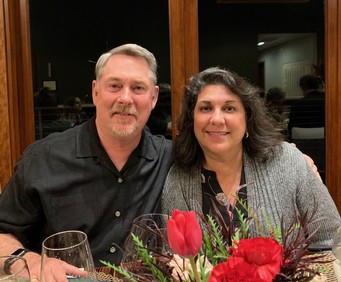 We are Carey and Anna Maria Bailey, the founders, owners and winemakers of Vista del Mirador Winery, Mirador Winery for short. Our winery consists of this beautiful 60-acre property in Somerset, CA. about 45 miles east of Sacramento in the Sierra Foothills at 2100' with over 20-acres of wine grapes planted. We also have a 2,000 square foot winemaking and tasting room facility where all our wine is made and sold.
When we were trying to decide what to name our winery, we thought about using our last name. Unfortunately, we couldn't use our last name since the name "Bailey" is trademarked. We next decided to look for a property feature. We have a beautiful gazebo that sits above the pond on the property where Flat Creek flows in and out on the way to the Consumnes River. Gazebo is not very enticing, but in Spanish, Gazebo translates to Mirador.
After making wine non-commercially for about 10 years, and winning dozens of amateur winemaking awards, Mirador Winery was officially founded in 2017. That is the year in which our first commercial vintage was made. We are both engineers, both of us getting our degrees from Cal Poly San Luis Obispo. We have spent most of our careers designing, constructing, maintaining and operating world-class, high-tech, one-of-a-kind, end-user, experimental facilities to support our country's National Security efforts. Great resources make great science as do great grapes make great wine!
In winemaking, great wine starts with great grapes. Here in the Fair Play AVA, it is all about the terroir, the environmental conditions (soil, weather, etc.) where the grapes are grown. We chose the Fair Play AVA because it offers ideal conditions for wine grape growing. The soil is comprised largely of decomposed granite with layers of clay and loam, offering great drainage for the grapevines. We have nice, warm days and cool evenings with little rain in the summer. We keep our grape yields to between 2.5 and 3 tons per acre and harvest our fruit at optimal ripeness in the fall.
In order to make the best wine possible from these amazing grapes, we hold our wine production to no more than 500 to 600 cases a year and do everything in-house. We do all of our own hand-crafted winemaking in our air-conditioned and humidity-controlled facility.
We encourage you to call us for an appointment and see for yourselves if our wine is as special as we think that it is.
Cheers,
Carey and Anna Maria